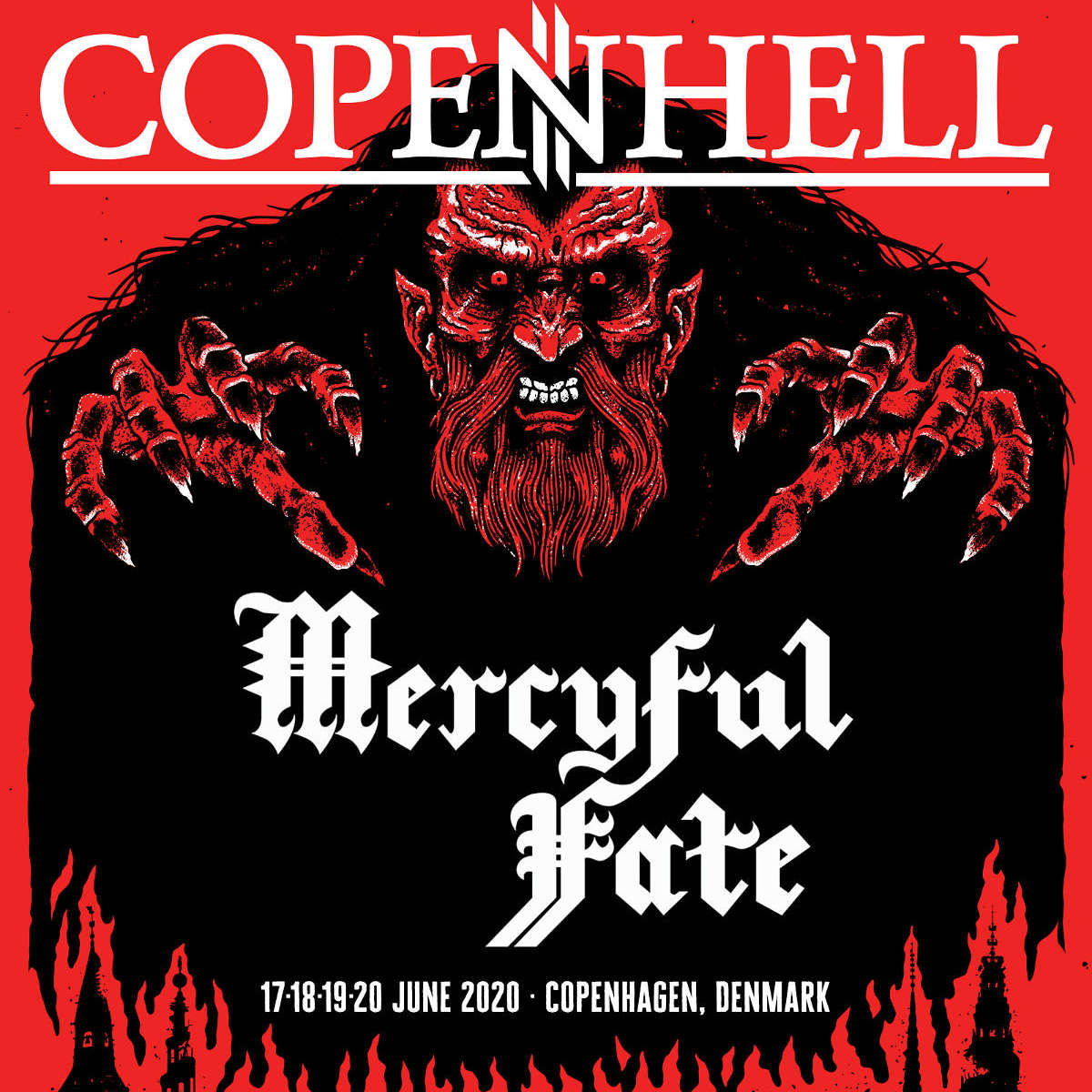 MERCYFUL FATE 2020
Hi everyone, we'll be back with Mercyful Fate in 2020…see Press Release below //HS
DANISH HEAVY METAL LEGENDS MERCYFUL FATE WILL PERFORM AT
UPDATED: THIS SHOW HAS BEEN CANCELLED BY THE PROMOTOR DUE TO COVID-19
COPENHELL 2020
The legendary Danish heavy metal band MERCYFUL FATE will make a spectacular return at next year's COPENHELL festival in Copenhagen, Denmark.
Almost 40 years ago, singer King Diamond and guitarist Hank Shermann created what would later become the most iconic and influential Danish heavy metal band ever. MERCYFUL FATE played a central role among the first wave of heavy metal bands in the post-Black Sabbath period from 1980 and onwards, forever leaving their demonic mark on a metal culture in its infancy.
Often credited for being an integral part of the early development of black metal and lauded by bands like Slayer and Metallica, MERCYFUL FATE established themselves as an extremely innovative outfit in the early days of 'true' metal: Phenomenal and progressive songwriting, mindblowing riffs from the Denner/Shermann guitar tandem and King Diamond's disturbing falsetto vocals combined with macabre theatrical aesthetics and occult themes to create a truly unique musical universe.
MERCYFUL FATE laid the groundwork in the years 1981-1985 and followed up again in 1992-1999 after a longer hiatus. Aside from re-recording songs for the video game Guitar Hero: Metallica in 2008 and joining Metallica on stage at their 30th anniversary concert in San Francisco in 2011, the band has been dormant for 20 years. Now this ancient evil has reawakened, and fans both old and new will get the chance to experience the real deal live at COPENHELL.
The band will perform with the "9" lineup featuring King Diamond (vocals), Hank Shermann (guitar), Bjarne T. Holm (drums), Mike Wead (guitar) and Joey Vera (Bass).  Joey Vera (Armored Saint, Fates Warning) was asked to fill in for Timi Hansen, who is currently away, because he has a very unique style and sound playing with his fingers. This is very important since the set list will only consist of songs from the very first 'Mini LP', the "Melissa" and "Don't Break The Oath" albums, plus some brand new songs written specifically in that very same style. This will be MERCYFUL FATE as they were in the very beginning – except for a brand new major stage production. Never break the oath!
Find Mercyful Fate site and socials here:
Facebook: https://facebook.com/mercyfulfateofficial
Instagram: https://instagram.com/mercyfulfatecoven
Website: https://mercyfulfatecoven.com
Copenhell Festival websites:
Facebook: https://facebook.com/copenhell
Instagram: https://instagram.com/copenhell
Website: https://copenhell.dk