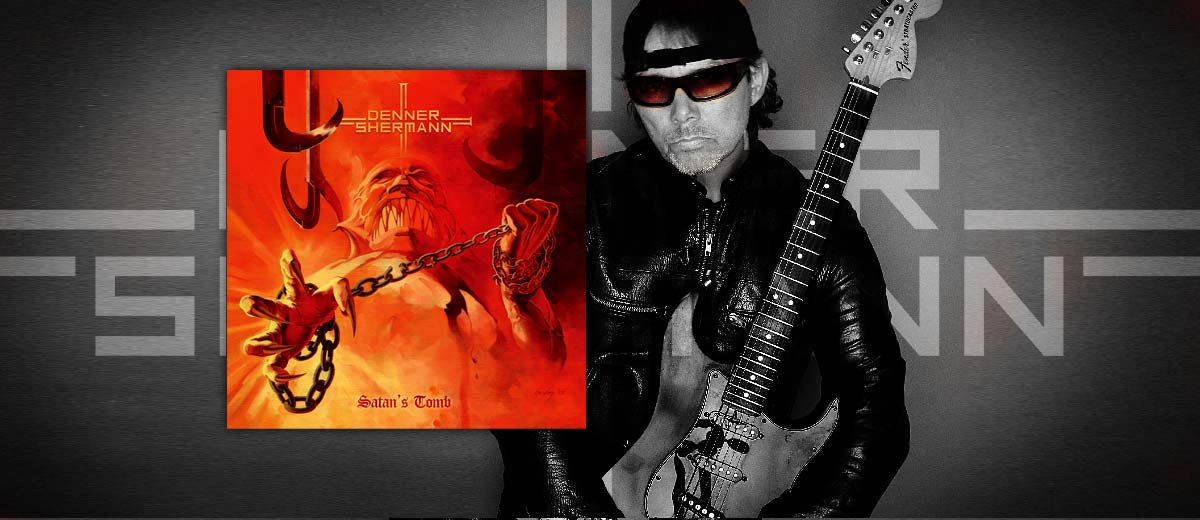 Interview with Hank Shermann on Satan's Tomb EP
Interview by Rex_84 from Metal Underground October 23rd 2015
Metal Underground: How do you feel now that "Satan's Tomb" has been released?
Hank Shermann: We all feel very excited, this is what we've been waiting for. We're not that patient, so when we delivered the master to Metal Blade Records, it might have been April of this year, we were told it was going to be released in October..Whoa, do we really have to wait so many months. That's how it is and it has always been like that, but now it's here. The release is on. The promotion is on and we have the full package. We have streaming, downloads, digipack, ordinary CD and vinyl, last but not least. We are very satisfied with the CD/Vinyl being out now and the reviews have been fantastic.
Metal Underground: I hear a lot of riffs that are really similar to Mercyful Fate. Do you hear that from your fans?
Hank Shermann: Yeah, it's almost impossible not to sound this way since Michael and myself have a sound together on those very early records. I composed most of the music back then and King created all the lyrics, so of course my song writing style would be similar to what we did in the early '80s. That's where we want to be. We don't want to take it in any other direction. Hopefully fans can  recognise that it's  Michael and myself based on our earlier records like "Melissa" and "Don't Break the Oath." I believe it's very present in all of the songs somewhere, can't be any different!
Metal Underground: Yes, I definitely hear that in the solos and the melodies. Even the first song the title track. There is that opening melody that totally reminds me of the song "Melissa."
Hank Shermann: Yeah, you have to remember that all those legendary classic themes that Michael Denner did; "Melissa" solo, "Into the Coven" solo and many more, all of those classic solos is the essence of Michael's playing and the way he is doing theme-based solos that stick in your head. Many of those are very memorable and have a sound only he can do.
Metal Underground: When you wrote the album, did you both write your own parts?
Hank Shermann: No, I'm composing the music and then send it off to Sean Peck in San Diego. We ping pong forth and back. I'll go visit Michael at his place and we discuss his guitar parts, and make sure he likes his solo parts and chord progression, where he is going to play the solo, in order to get the best out of him. It's the same process as we did in early Mercyful Fate, in the beginning I composed the songs and then King came up with "Come To The Sabbath" and "The Oath" for the DBTO Album, two top notch classic songs and favorites at live shows even to this day.
Metal Underground: Did Sean Peck write the lyrics?
Hank Shermann: Yeah, Sean is doing all the lyrics. There is no censorship or anything. He can write about anything. That's how I like it to be. of course, it should not be too silly. He has tons of ideas and it's the perfect fit for us because he has all the qualities and the essence of all the singers we favor in the world. That would be early Judas Priest with Rob Halford, King Diamond/Mercyful Fate, Geoff Tate from early Queensryche, Bruce Dickinson from early Iron Maiden and stuff like that. I think Sean covers all of these qualities that these singers have. Also, he has a tone that is very significant, very signature. He can be pretty crazy, meaning that he can go nuts in his performance. He can do theatrical stuff. He can do melodic stuff and he can write about anything. And he really works fast too. That's what I do as well. When we start jamming on a song, I send him music and the next day I already have some ideas from him. So that works out perfectly.
Metal Underground: The lyrics remind me of Mercyful Fate, too, because they are Satanic. Was it important to write about evil on this album?
Hank Shermann: Well satanic elements, but not our main subject. You have to remember that Sean is like a decade younger than King,  so he grew up on Mercyful Fate and King Diamond, so at an early age he was inspired by King Diamond as a person and his lyrical writing and universe. His band Cage even did a tribute to King Diamond called "King Diamond." But first of all we want to play something unique with Denner/Shermann. Now, we are all together for the first time. So far we have a mini-album, an EP, four songs and now we are already working on the album, set for a May 2016 release!
Metal Underground: Snowy Shaw joins you once again. He played lived with Mercyful Fate. What does he bring to the group?
Hank Shermann: I think he brings a tremendous amount of importance to this album because of his drumming. He's so unique. He's a world class, signature player. It was a really high-talent performance that he did on Satan's Tomb. That's really important. You can put on the album and just listen for the drums and all his technique and patterns on the cymbals. Everything is so crazy. That's why we chose him. And it doesnt hurt that he is a former Mercyful Fate/King Diamond drummer. Since he is one of the best signature drummer out there we needed to at least ask him and he was right on to it. He's also going to be on the album. That's important.
Metal Underground: You've played with Marc Grabowski in Demonica. What's it like to reunite with him?
Hank Shermann: I started this band in 2009 called Demonica. It was metal-based, thrash-based music. Maybe a little more early Slayer style. I've known Marc Grabowski from Colorado since 1996. He's totally a natural talent. He's an excellent bass player and has so much to show. I can't wait to let him shine on the next album because there are different parts where he can use his talent. Just before we decided to release Denner/Shermann, I was working with my solo output with a band called Shermann Tank. Marc was the singer and bass player in that band. We already had two or three songs going and then me and Michael said let's do Denner/Shermann. I said, "Ok Marc, listen to this, Me and Michael have decided to go on with Denner/Shermann, let's put Shermann Tank on the shelf for now. And by that I would like to invite you to come over to Denner/Shermann and be the bass player." so we got ourselves an awesome bass player.
Metal Underground: How does this compare to Force of Evil, which also contained Michael Denner?
Hank Shermann: That was a similar idea started in 2002. Hal Patino from King Diamond and Bjarne Holm from Mercyful Fate on the drums. And the singer Martin Steene from Iron Fire. The singer did his best performance of his life. Music wise we were different from what we are now. With "Satan's Tomb" we are more relaxed and focused starting all over as if it were 1981. That's kind of how I feel. We really enjoy having that fresh feel on it all. And It's cool for me to let my creativity flow with no restrictions, no filters, like how I started in 1981 or something, make the songs and see what comes out, with the added 35 years experience to lean on of course!
Metal Underground: What are your plans for Denner/Shermann? You've talked about making another album, perhaps a full length?
Hank Shermann: Yeah, we have seven songs almost completed on the full length. I can only tell you it's a bit more heavier, a bit more intriguing. a bit more plotting, I can't wait to get it out there; it's phenomenal to say so myself! Now we starting to get a formula, and I can take it steps further. I slightly changed the song writing style a bit to get it even more evil, get it more aggressive and heavier. You have to hear it in order to understand it. We have seven songs we've written and are maybe looking at ten total. We are planning to start the recordings in the beginning of December. Mixing in late January, early February and release May 2016. We are trying to make a quick follow up from the EP to gain some momentum and to also not have too much time in between the releases. I would like it to be at least within a year, it should be!
Metal Underground: Will this group play live?
Hank Shermann: I hope so (laughs). If promoters and club owners will invite us to play, we would be more than happy to come out and play. We are still waiting to book our first show. It might be a festival likely somewhere in Europe to start with. Then around that festival or festivals we will try to book some club shows in between. We are still waiting to confirmm the first show, but our tour booker/manager is still working on what feels best for us and also what is possible financially because it is a lot of logistics. We have to go ot and play, that's very important in building this band, show ourselves and play all the classics people expect us to do, and present some of the new material from the upcoming full lenght Album.
Metal Underground: So when you play live, you will play some Mercyful Fate songs?
Hank Shermann: People will throw tomatoes at us if we don't. Being the original twin-axe duo it is expected that we would play at least some Mercyful Fate songs. That's certainly what we intend to do. We already talked about a few songs that we would like to play. With Sean Peck singing it will be really special because he can pull it off like no one else, at least for the fans' sake and for our enjoyment.
Metal Underground: There are a lot of people waiting for it. I have to tell you, though, I really do like this album you've done. It's like getting a fix of Mercyful Fate just because it has the guitars.
Hank Shermann: It's based on the same vibe. It's like no matter what we do, that's how it's going to sound. It's not like we are trying hard to sound that way. That is how we sound no matter what. This is how I create and compose songs. When we play together it sounds a certain way, and one thing that was important to us mixing the album is we kept it old school. We could have easily chosen to have a full power in your face blasting production, everything on eleven. Or we could chose to have a bit more of an ambient sound, a more natural sound with more dynamics and then less output. So we chose to do it a little more old school. I think it went pretty well. For the next album, we will probably make the sound heavier. I imagine the guitars having a more dominant role and the drums might be a little more full sounding..
Metal Underground: It's been a pleasure speaking with you. I've been a fan for twenty-plus years, since 1990.
Hank Shermann: Very cool indeed, my pleasure…
**Interview with Hank Shermann
Denner / Shermann Official Sites:
http://www.dennershermann.com
https://www.facebook.com/dennershermann
https://twitter.com/dennershermann
https://www.youtube.com/dennershermann