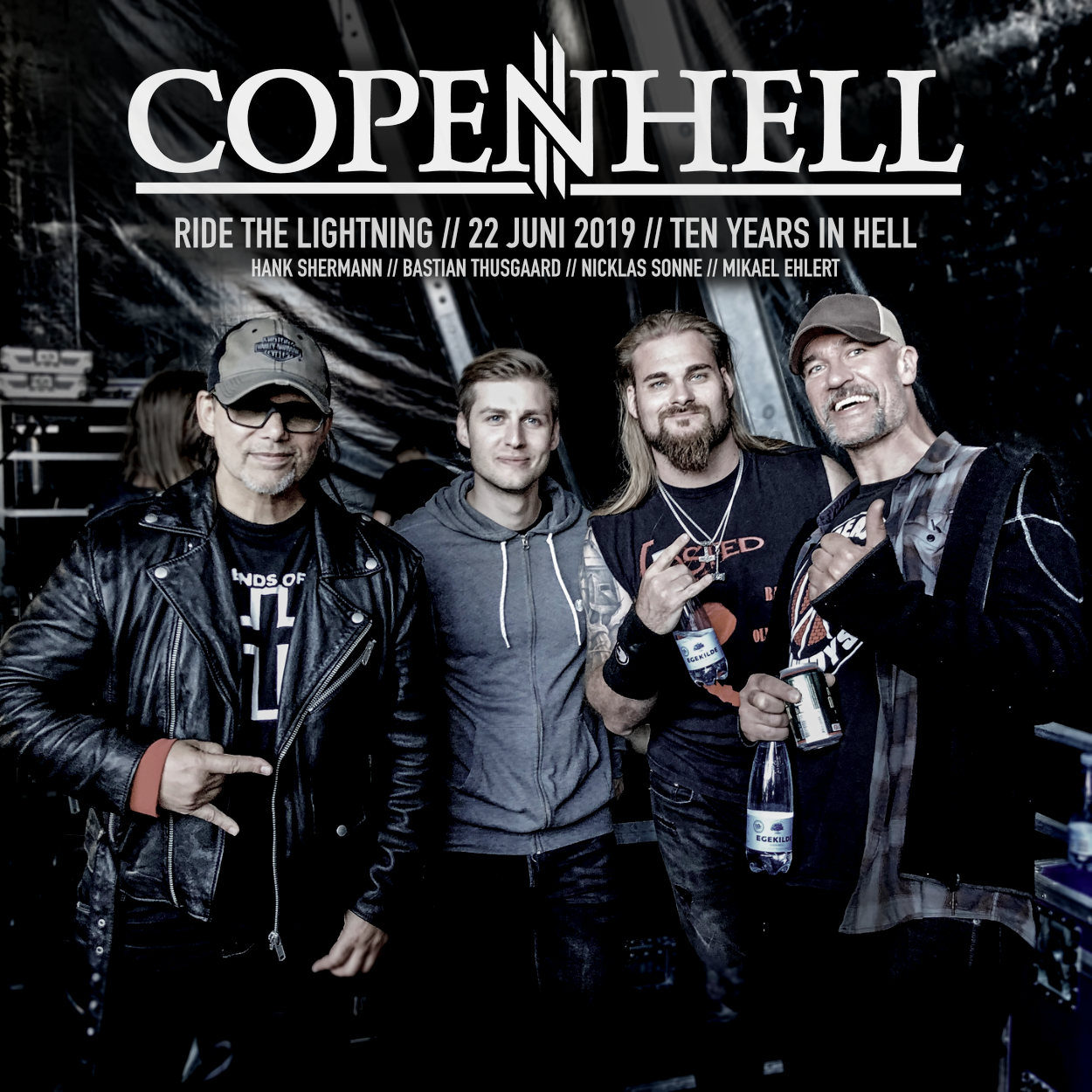 COPENHELL : RIDE THE LIGHTNING
COPENHELL 2019 is completed. I had the opportunity to play "RIDE THE LIGHTNING" by Metallica, together with Nicklas Sonne on Vocals/guitar (Defecto), Bastian Thusgaard on Drums (Soilwork) and Mikael Ehlert on bass (IAmFire).  In connection with COPENHELL'S Ten year Anniversary, a super jam was arranged with the top 40 Danish rock musicians spanning over 3 decades (see list below).  I hadn't jammed Ride the Lightning since sometimes in 1984, so was super fun to dive into all details of this great song. Certainly a game changer at the time..great cadeau to Lars Ulrichs drumming.
The TEN YEARS IN HELL Jam was awesome with some 20.000 rock fans attending this special event. The set-list contained songs from AC/DC, METALLICA, SLAYER, DEATH, MOTORHEAD, BLACK SABBATH, PANTERA and GASOLIN and 2 new songs specially created for this event.
The show was multi-tracked and video taped, for possible later use.
Thanks to Copenhell / Toke Holt / Jacob Binzer / Jan Fod
TEN YEARS IN HELL musicians
Allan Tschicaja, Omvendt Korstog
Anders Bo Rasmussen, Rising
Anders Lundemark, KONKHRA
Bastian Thusgaard, Soilwork/Dawn Of Demise
Casper Roland Popp, Bersærk
Chris Kreutzfeldt, CABAL
David Mikkelsen, Undergang/Phrenelith
Esben Elnegaard Kjær Hansen, HateSphere
Hank Shermann, MERCYFUL FATE
Holger Rumph-Frost, MØL
Jacob Binzer, D-A-D
Jakob Jensen, APHYXION
Jacob Krogholt, RISING
Jakob Mølbjerg, Mercenary
KB Larsen, Volbeat/Parasight
Kenneth Hammer, Pretty Maids
Lars Evers, Bersærk
Lasse Mørch Revsbech, Baest
Lola Hammerich, Baby In Vain
Martin Goltermann, NYT LIV
Martin Rolighed Kristensen, KONKHRA
Michael Bastholm Dahl, Artillery (band)
Michael Benborg Aagesen, Nyt Liv
Mikael Ehlert, BLOOD EAGLE / IAmFire
Michael Stützer, Artillery
Mirza Radonjica-Bang, Siamese
Morten Grønnegaard, Rising
Nicklas Sonne, Defecto
Oskar J. Frederiksen, Slægt
Peter "Pepe" Hansen, Hatesphere
Rasmus G. Sejersen, THE PSYKE PROJECT/LLNN
Rasmus Schmidt, Illdisposed, Killing Ghandi
Ronnie Atkins Official, Pretty Maids
Simon Erlendsson, Nyt Liv
Simon Olsen, BAEST
Søren Andersen, Electric Guitars / Glenn Hughes
Søren Hvidt, Nyt Liv
Theis Roed Thorgersen, Helhorse
Tim Christensen, Dizzy Mizz Lizzy