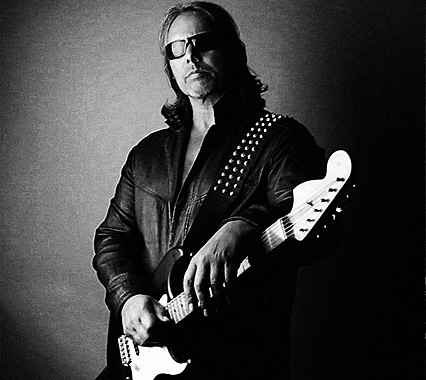 HANK SHERMANN started playing guitar in March 1977. His first ever guitar was a Japanese black Les Paul copy bought for around 100 USD. He started in the punk-scene in Copenhagen in Spring 1978, but soon found his alley in Heavy Metal bands like Judas Priest, UFO and Black Sabbath. His first band named Brats, was formed in 1978 and first ever show was July 28th that same year. Brats had some change of members in 1979, and Michael Denner later joined the band in Autumn 1979 (3.0 version). They released an album in 1980 via CBS records, six month later the band broke up. MERCYFUL FATE came to surface in early 1981 , when singer King Diamond joined the band, starting a new breed in heavy metal music. Shermann started to compose MF's music, which later became classic songs for the band. "EVIL", "SATAN'S FALL", "CURSE of the PHAROAHS", "BLACK FUNERAL", "A CORPSE WITHOUT SOUL", "INTO THE COVEN", "MELISSA"  and "DESECRATION of SOULS" to name a few. Mercyful Fate disbanded in 1985, only to reform again in 1992. The Band has been inactive since 1999, but not disbanded. "Some day we might rise again"…says Hank
Hank formed the band DEMONICA with vocalist Klaus Hyr and recordings was completed in May 2009, Style is Old School Thrashy Metal featuring guitarist Craig Locicero (Forbidden), Drummer Mark Hernandez (Testament), bassist Marc Grabowski & vocalist Klaus Hyr. The Album "DEMONSTROUS" was released in 2010. *No future plans at this point!!
Shermann performed as live-guitarist with VOLBEAT in all of their 2012 live shows, 74 concerts total, across USA, Europe and South America. Including the headlining Wacken 2012 show. 2 songs from this show was added to the "Outlaw Gentlemen & shady ladies" Album as special bonus tracks!
Hank formed the new band SHERMANN TANK – "After the VOLBEAT tours completed in 2012, I decided to start working on a new project" says Hank. Things developed and I joined forces with Marc Grabowski, Vocalist & bass player  *No plans at this point!
Shermann also works as a music producer, songwriter and videographer, and was behind the single release "Angel" with legendary female singer Kate Svanholm, known from the punk scene in Denmark in the late 1970s and early 80s, where Hank also started his musical path..
Hank teamed up with Michael Denner in May 2014, to form DENNER / SHERMANN. They video-taped "Melissa" & "Dont Break The Oath" to celebrate the Albums 30 years Anniversary, in that process the idea to form a new band was born. Working on new music with a lot of guitars involved and an incredible line up of musicians: Sean Peck on vocals, Snowy Shaw on Drums and Marc Grabowski on Bass. "We recorded the EP called "Satan's Tomb" released on October 2nd 2015!. First full length Album "Masters Of Evil" was released June 24th 2016!!
Shermann is currently working on his first Solo Album set for a 2018 release! "Im jumping into it, I feel now is the time for me to do my own Album as a guitarist and composer 40 years after I picked up my first guitar in 1977, I'm excited to see where it will go" says Hank. More info as they occur..
Official Sites:
Website: www.hankshermann.com
Facebook: www.facebook.com/hankshermannofficial
Instagram: www.instagram.com/hankshermann
Youtube: www.youtube.com/user/hankshermanntv
Twitter: www.twitter.com/hankshermann
[divider]DISCOGRAPHY / ACTIVITY[/divider]
| YEAR | BAND | TITLE | REMARKS |
| --- | --- | --- | --- |
| 1979 | BRATS | Pære Punk | First release |
| 1980 | BRATS | 1980 | CBS Records |
| 1982 | MERCYFUL FATE | 1st (EP) | Rave On Records |
| 1983 | MERCYFUL FATE | Melissa | Roadrunner Records |
| 1984 | MERCYFUL FATE | Don't Break The Oath | Roadrunner Records |
| 1985 | FATE | 1st | EMI |
| 1986 | FATE | A Matter of Attitude | EMI |
| 1987 | MERCYFUL FATE | The Beginning | Roadrunner Records |
| 1991 | ZOSER MEZ | Vizier of Wasteland | |
| 1992 | MERCYFUL FATE | Return of the Vampire | Roadrunner Records |
| 1993 | MERCYFUL FATE | In the Shadows | Metal Blade Records |
| 1994 | MERCYFUL FATE | The Bellwitch (EP) | Metal Blade Records |
| 1994 | MERCYFUL FATE | Time | Metal Blade Records |
| 1996 | MERCYFUL FATE | Into the Unknown | Metal Blade Records |
| 1996 | GUTRIX | Mushroom Songs | |
| 1998 | MERCYFUL FATE | Dead Again | Metal Blade Records |
| 1999 | MERCYFUL FATE | 9 | Metal Blade Records |
| 2001 | VIRUS 7 | Sick in the Head | Metal Blade Records |
| 2003 | FORCE OF EVIL | 1st | Escapi Records |
| 2005 | FORCE OF EVIL | Black Empire | Escapi Records |
| 2006 | WITCHERY | The Waits of The Pyramids | Guest Solo |
| 2008 | BRATS | The Lost Tapes | Indie Label |
| 2009 | GUITAR HERO | Metallica (PC Game) | |
| 2009 | MERCYFUL FATE | Evil (EP) | Metal Blade Records |
| 2010 | DEMONICA | Demonstrous | Massacre and various |
| 2012 | WITCHERY | God Who Fell From Earth | Guest Solo |
| 2012 | VOLBEAT | 74 shows (Live Guitarist) | Live Shows |
| 2013 | VOLBEAT | Outlaw Gentlemen & Shady Ladies | Universal |
| 2014 | KATE SVANHOLM | Angel (Single) | Swan Attractions |
| 2015 | DENNER / SHERMANN | Satan's Tomb (EP) | Metal Blade Records |
| 2016 | DENNER / SHERMANN | Masters of Evil (LP) | Metal Blade Records |
| 2016 | WITCHERY | Escape From Dunwich Valley | Guest Solo |
| 2017 | WITCHERY | A Faustian Deal | Guest Solo |
| 2018 | T.B.D. | T.B.D. | |
| 2019 | T.B.D. | T.B.D. | |
| 2020 | T.B.D. | T.B.D. | |
[divider]INFO & FAVES[/divider]
BORN:
July 1959
EARLY INSPIRATIONS:
Michael Schenker – UFO
Uli Roth – Scorpions
Judas Priest – 70s Albums
Uriah Heep – 70s Albums
Sweet – '73-'76
FAVOURITE ALBUMS:
Judas Priest/Stained Class
Judas Priest/Sin After Sin
Judas Priest/Killing Machine
Black Sabbath/Sabbath Bloody Sabbath
Black Sabbath/Sabotage
Scorpions/Virgin Killer
Warning/2 (The Red Album)
Sweet/Sweet Fanny Adams
Sweet/Desolation Boulevard
Sweet/Give Us a Wink
Van Halen/1st
Captain Beyond/1st
Aerosmith/Rocks
FAVOURITE DISH:
Italian
FAVOURITE CAR:
Volvo Amazon 123 GT 1967
FAVOURITE GUITAR:
Fender Stratocaster 1972
(Hank Shermann Bio)